This guide will teach you how to use Messenger without having a Facebook account. This guide works for both Android and iOS users.
With the bizarre figure of over 1.7 billion active users, the social media giant Facebook is by far the world's most popular social network. Yet even despite the fact that most of your friends and family most likely have Facebook profiles, more and more people are starting to grow weary of it all and are seeking for ways to distance themselves from the bustle of social media, yet still remain in touch with their friends. Yes, Facebook is not for everyone. Perhaps you are one of the people who dislike the social platform, but still want to get in touch with your friends, who use it.
The release of the Facebook Messenger app fulfilled exactly that same purpose. You had a program that would allow you to talk to your friends without having to endure the bombardment of random news and status updates you caring nothing about. Well, if you belong to the number of people, who have decided to disable their Facebook accounts and rid themselves of the endless advertising flow, the meaningless posts and all the pointless discussions and debates – we have some good news for you.It's actually possible to use Messenger without a Facebook account – as long as you provide a valid phone number you'll be able to connect to Messenger.
What's more, Messenger also conveniently offers you the opportunity to call people, video call them, too, and send each other gifs, pictures, stickers and emojis. So, no need to return back to Facebook for all this, here's how you can use the app without having a profile:
How To Use Messenger Without a Facebook Account
The guide
Step 1:
Go to the app store of your operating system brand (Google Play Store for Android, Apple Store for iOS users) and search for Messenger.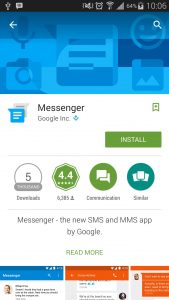 Step 2:
Once you've found the app, download it.
Step 3:
After you've downloaded Messenger to your device, open the app. You will be offered two options: you can either sign in with Facebook or you can continue with your phone number. Tap the latter.

Step 4:
Confirm that you would like to proceed without a Facebook account and enter your phone number, when asked to.

Step 5:
You will then receive a confirmation code, which you will need to enter in order to continue.
Step 6:
After this, you can enter your name and even add a photo, if you like. (You can skip this part, if you so choose). Messenger will also offer to automatically add contacts to the app, which you may also skip or turn on, however you prefer.

Step 7:
Done! Enjoy your Messenger, without a Facebook profile.
Do you have Messenger or Facebook, or both? Let us know which one you prefer and why in the comments below!